Digital Nailfold Capillaroscopy Basics
Item No. DM-01

Non-Invasive and Efficient Diagnostic Tool
Capillarocopy is a non-invasive and safe method for morphological examination and analysis of microcirculation abnormalities related to rheumatic diseases.
Crisp Live Images of Capillaries
Inspectis high resolution capillaroscopy digital microscopes create crisp live images of capillaries, thanks to it's fast USB3.0 interface, superior optics, and illumination.
Essential Software Tools for Capillary Assessment
INSPECTIS© CAP Basics Software, is intuitive and powerful software platform to save, measure and share the capillaroscopy images.
Software includes the essential tools to perform capillary assessment, such counting and measuring of capillaries, displaying a 1mm grid.
Cost Effective
Capillaroscopy Basic system is the cost effective digital capillarity system without compromising image quality.The software can be upgraded to PRO version in future for more demanding examinations
Optimized for SSc Examination
Tools meeting all the needs of internationally recognised capillaroscopy examination techniques are easily accessible and additional tools can be used to extend the depth of study if required. Assessment of saved images can be made during or after an examination. Accuracy is assured with pre-calibrated lens magnifications.
Included Items
Digital Capillaroscope, 5.0MP Image Resolution, USB 3.0
200x Lens with built-in Illumination
INSPECTIS© CAP Basics Capillaroscopy Software
Immersion Oil
Foot Switch for Hand-free Image Capture
Bench-top Holder for Capillaroscope
Typical Applications:
Scleroderma screening
Examination and analysis of microcirculation abnormalities
Early detection of digital ulcers
Saving capillaroscopy images
Measurement and counting of capillaries
Presentation and training

System
Sensor Type
1/2.5″ Colour CMOS 2592H x 1944V Pixel
Aspect Ratio
4:3 at 5MP and 3MP mode. 16:9 at 2MP mode
Pixel Size
2.2 x 2.2 μm
Video formats @ frame rate (max)

2592×1944 (5 MP) @ 15 fps, 2000 x 1500 (3MP) @ 22 fps,

1920 x 1080 (Full HD) @ 30 fps, 640 x 480 (binning) @ 57 fps

Adjustable parameters
Brightness, contrast and resolution
Dimensions and Weight

135 x 50 x 37 mm 205 g

Stand Mount
Standard Camera mount UNC 1/4″ – 20
| Optics | |
| --- | --- |
| Fix Focal Lens 200x | Achromatic high-resolution lens with built-in light, FoV ~ 1.8 x 1.35 mm @ 3MP |
| Fix Focal Lens 300x ( optional ) | Achromatic high-resolution lens with built-in light , FoV ~ 1.2 x 0.9 mm @ 3MP |
| Verifocal Lens 15-45x ( optional ) | Achromatic varifocal lens with built-in polarisation filter |
| Illumination | Integrated pure white LED ring light, Colour Temperature 5800K (Kelvin) |
| Order Number | Accessories |
| --- | --- |
| IN-013 | 300x High-resolution Lens with Built-in Illumination |
| IN-017 | 15-45x Varifocal Lens with Built-in Polarised Illumination |
| IN-024 | Immersion Oil Dropper |
| IN-034 | Triple-pedal Foot Switch |
| IN-035 | Capillaroscope Stand with XY-Stage |
| IN-037 | Carrying Case |
| IN-040 | Health Care Cart |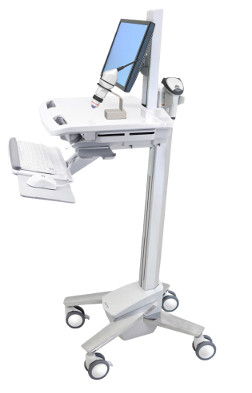 Contact us for more information or request a demo!